Feeling lost? We're here to help guide you through the dashboard. Drop us a line at info@scop.io if you need assistance, and we'll get back to you as soon as we can.
 LOGGING IN
Open scop.io on your browser. Select "Log In" on the top navigation bar. Enter your information on the next page to log in.

You will be directed to your Scopio Dashboard Homepage. This is where the magic happens!
CONNECTING YOUR INSTAGRAM ACCOUNT TO
 

SCOPIO'S

 

DASHBOARD

Connecting your account allows requests to be sent to content creators directly from your own Instagram account. If you do not link to an Instagram account, the request will be sent from @scop.io and you will not receive as many search results. In this case, your account email will still receive approval notifications, but approved images and videos will appear under #yescop.io on Instagram and not your own #yesusername hashtag. 

Using your Instagram account boosts your response rate, brand recognition and number of relevant search results. It'll also give you a chance to build your own Instagram gallery of approvals. If you don't have an Instagram account, we strongly suggest that you create one. Need help? Email your account representative, and we'll give you some tried-and-tested advice. 

1) Select "Social Accounts" from the Dashboard Navigation Bar. You'll see a page that looks like the one below.



 3) Instagram will prompt you to log in. Enter the login details for the account you want to send request messages from. These will go to content creators and appear in the public comment fields on the items you are requesting.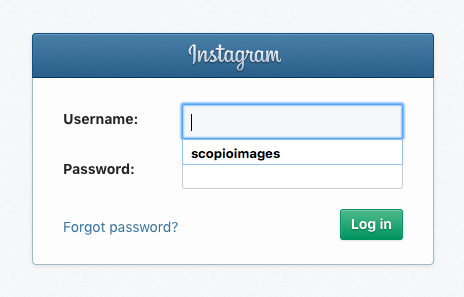 4) Return to your Social Accounts page to confirm that your Instagram account is linked. You will see a screen that looks like the one below.

Once your account is connected, you can start sending messages to content creators. These messages will come from your own Instagram account @handle.
SETTINGS
On your Dashboard Homepage, you'll also see your saved searches along with "Your Requested" and "Total Approved" content. But first, you'll want to know how to customize and change some of your settings.
Saved Searches: Searches you have created and saved, all of which are accessible from your Dashboard Homepage
Your Requested: The total number of requests subscriber has made all time.
Total Approved: The total number of approved items for the subscriber.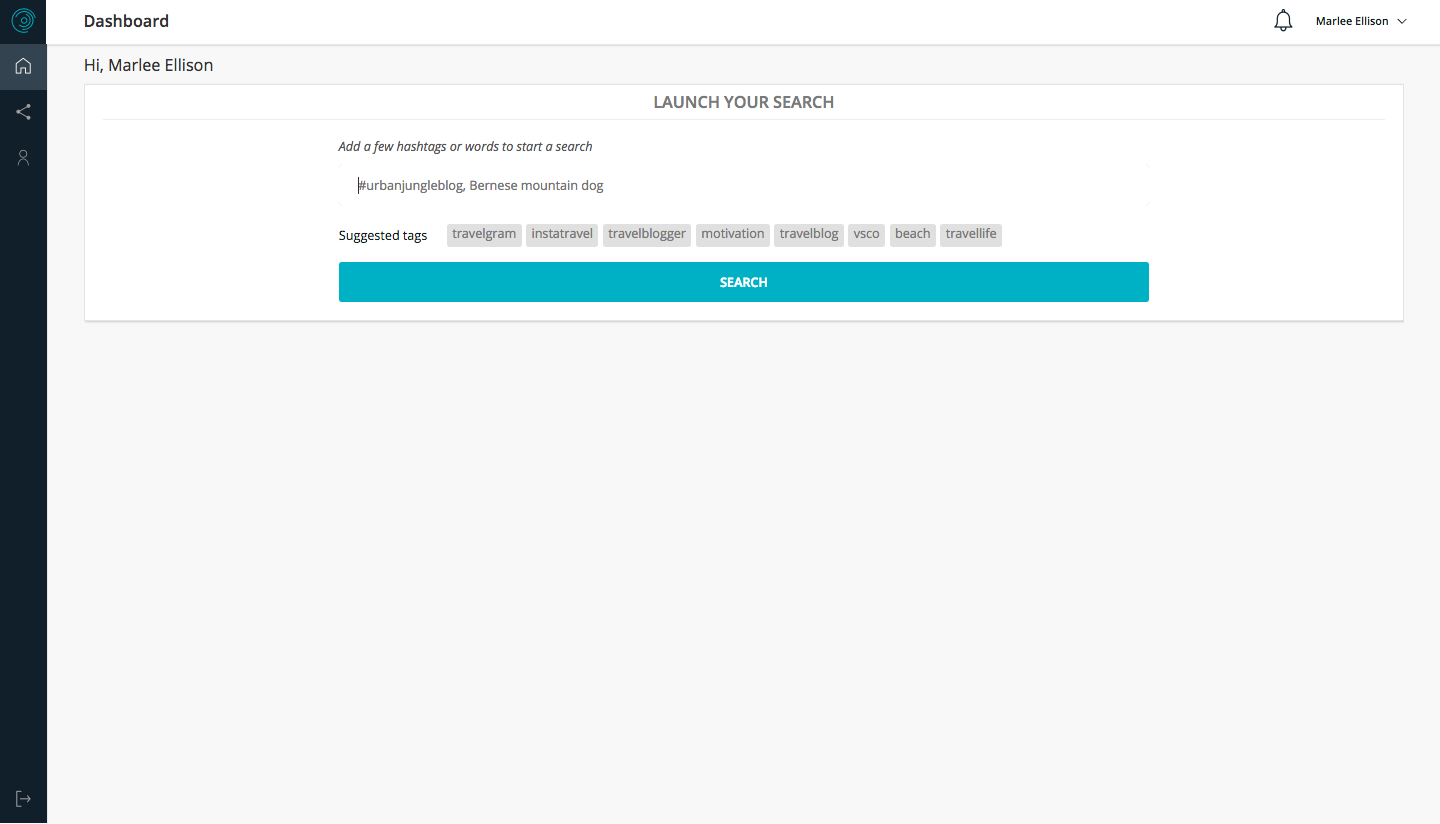 The Dashboard Navigation Bar is the navy bar running along the left side and can be found on every page on your dashboard. The Scopio logo (cool, huh?) is at the top. Below are three icons, each with different functions.
Home: Feeling lost (don't we all, sometimes)? Return to your main dashboard any time by clicking on this button.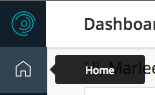 Social Accounts: On the Social Accounts page, you can connect the Instagram account you'll use to communicate with content creators. This will ensure that all requests are sent from your account. It also ensures that you'll get more results in your Scopio searches.
Requests to content creators will appear in the public comment field on the images and videos you request. We suggest using your own Instagram @handle, as it boosts your approvals and brand recognition. 

Profile: Change some of your account information here. Just hit "Update" to save your changes.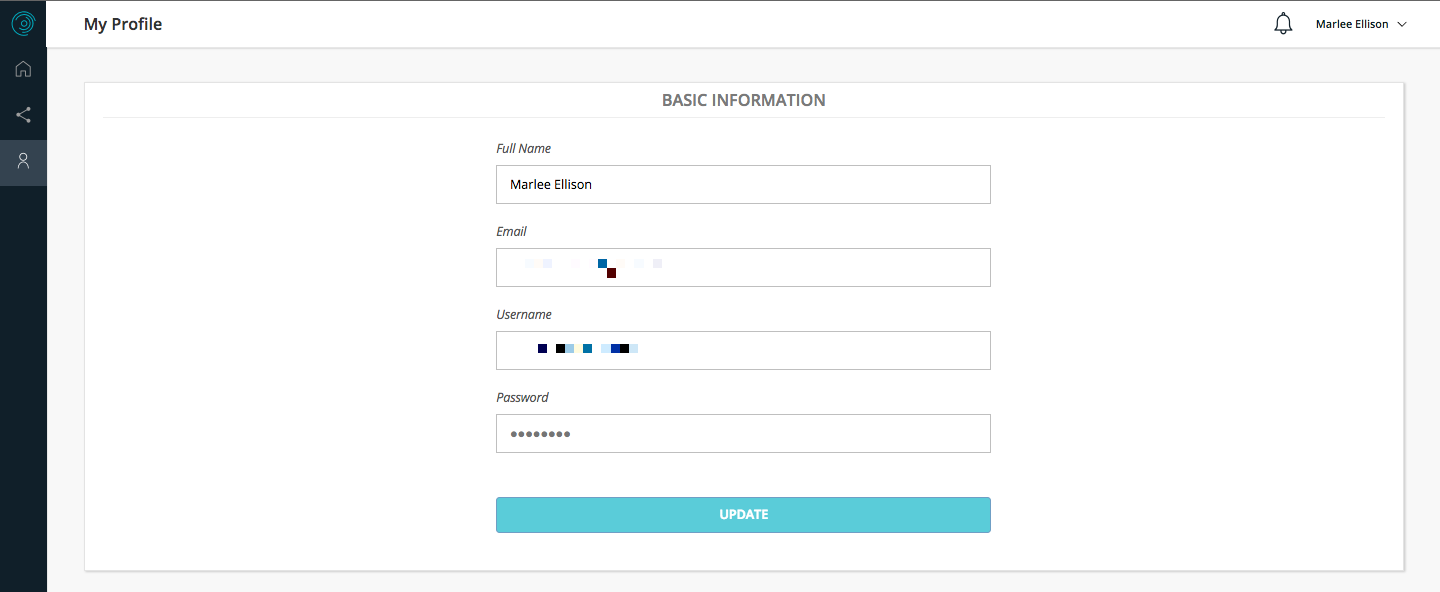 HOW DOES THE SCOPIO PLATFORM ENSURE SPAM-FREE SEARCHES?
We use different layers of artificial intelligence to filter through your searches at all times. These layers include image recognition and natural language processing.
To avoid even more spam in your searches, It's best to be as clear as possible. For example, the hashtag #dogsofinstagram is a better search term than #dogs because it's a more dedicated niche. We recommend browsing through Instagram while you're adding to your search and taking advantage of our Suggested Tags. Creators on Instagram will often use niche hashtags that you might not have known about.

If you can't find what you need, don't fret — it's not always a straightforward process, and we'll help you optimize your search. Contact info@scop.io, and we'll get back to you on ways to improve your search. 
SEARCH PAGE (TOTAL, REQUESTED, APPROVED, DOWNLOADED AND APPLY SEARCH)

You can track the progress of your searches inside each individual search.  
Definitions:
Total: The number of results on a particular search. The "Total" tab includes all requested, approved and downloaded items. Scopio will dig into Instagram's library to bring you fresh results.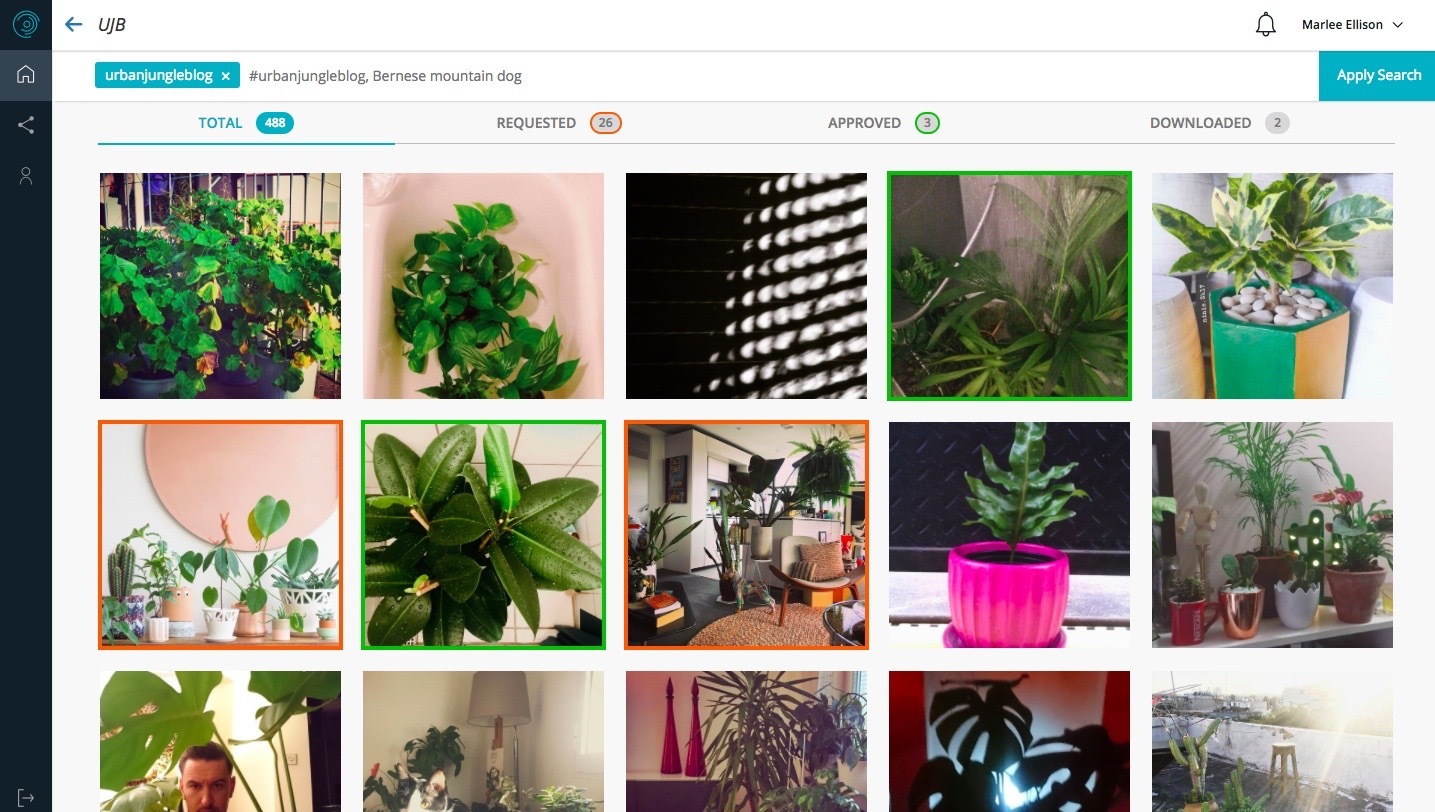 Requested: The number of images and videos a subscriber has requested in a particular search. When an item is approved, it shifts into the approved total.  By clicking on the "Requested" tab in a search, only the requested items from that search will appear.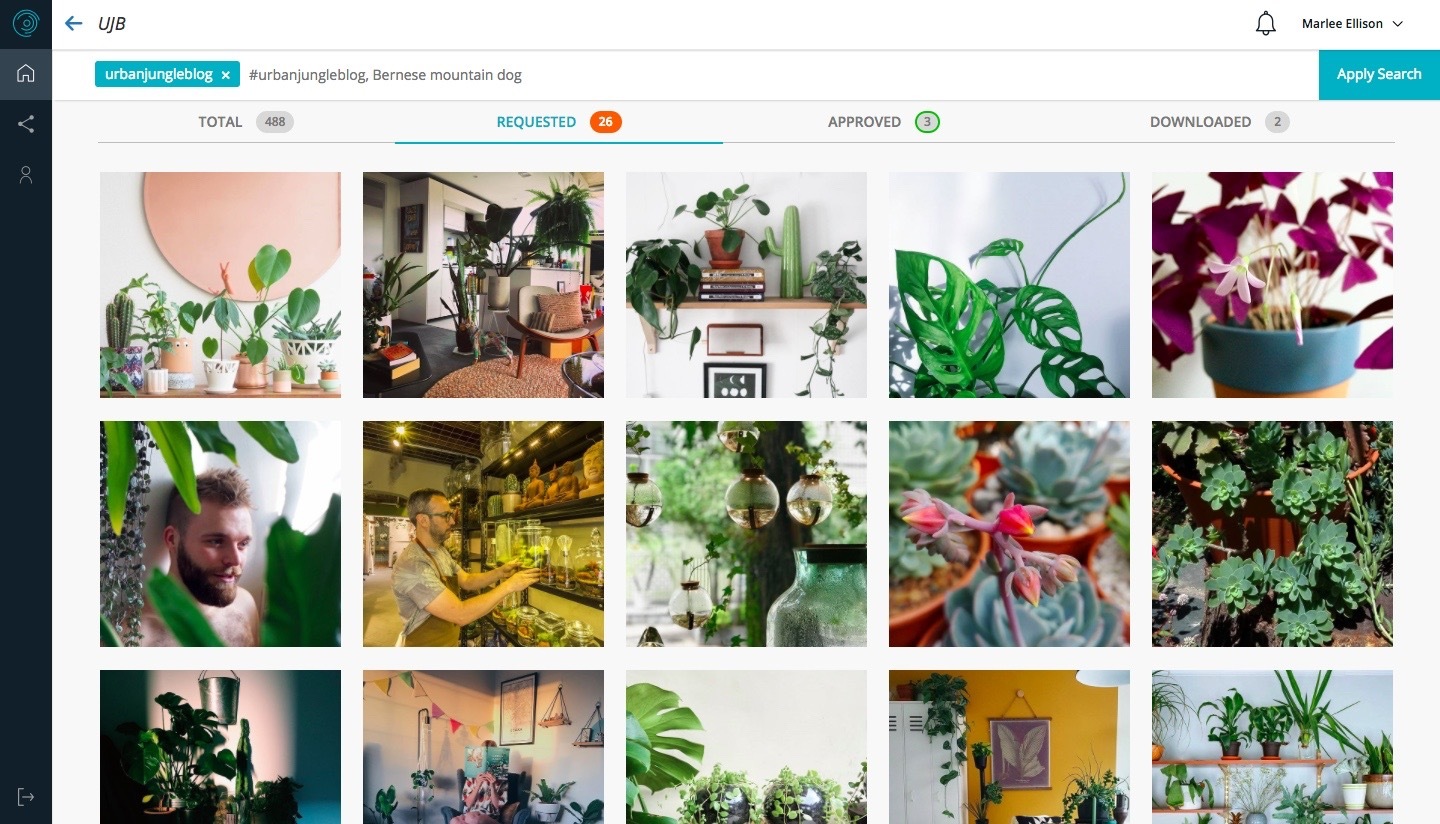 Your requested items also show up in the "Total" tab on saved searches and are highlighted with orange borders.

Approved: The number of images or videos requested by a subscriber that are approved for use by content creators. All approved images and videos appear in the "Total Approved" section on the Dashboard Homepage. By clicking on the "Approved" tab in a search, only the approved items from that search will appear.

Your approved items also show up in the "Total" tab on saved searches and are highlighted with green borders.

Downloaded: Approved images or videos requested by a subscriber that have been downloaded to their computer.  Clients can also follow-up via DM with content contributors to secure higher resolution images. See Download below.
Other Approved: Images or videos previously approved by content creators that were requested by other Scopio subscribers. These images and videos match your current search. All are available to download and use.
Apply Search: This button refreshes search results. Each time a subscriber adds or modifies search terms, they should click this button to bring in fresh images and videos.
HOW TO MAXIMIZE YOUR RESULTS BY UNDERSTANDING HOW INSTAGRAM AND SCOPIO SEARCHES WORK
Instagram and Twitter are massive collections of content. Instagram alone amasses over four billion images and videos, with over 50 million new images and videos added every single day. This is what makes social media such an exciting, untapped resource.
Instagram and Twitter are also rightlfully protective of their users and place restrictions on access to defer spam, trolls and harassment. The Instagram and Twitter APIs also place certain restrictions on user searches, which can confine your results.
This is where Scopio comes in.
Working within the parameters set by Instagram and Twitter, we work every day to maximize search results on your behalf.
We eliminate as much spam and advertising as possible. We also use natural language processing and machine learning to enhance your search terms, results and overall experience.
And most importantly, we keep search results from customers in our database, which we've coined our social cache library. Let's say that your brand or projects revolve around a niche category such as wine. In time, you can build your own personalized cache of wine images that will appear first in your next searches. We'll add even more results to your searches as we dig into Instagram's more recent results.
If you understand this process, Scopio can become a great tool for you.
Apply Search: Finding a star in the social-media universe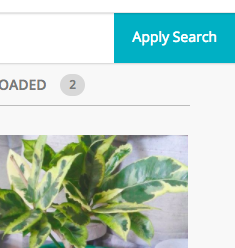 You may be used to a traditional stock search experience. These libraries have their puny collection of 40 million images and videos ready to go, sitting neatly inside their servers. But if you were finding authentic, fresh, never-before-seen images and videos with your stock subscription, you wouldn't be using Scopio — would you?
Since you started reading this section, content creators have uploaded more images and videos to social media than you'll find in most stock libraries.
Think of it like this: Anthony Bourdain doesn't find great food by playing it safe. He explores and tolerates some modest decor and rough edges to find that next great meal.
And that's why you're here, right?
Because you are the Anthony Bourdain of content.
Here's what this means for your user experience. When creating searches, you will see results from our cached library first. These are results from past searches launched by you and other Scopio users. As you browse the initial thumbnails, Scopio's AI system takes a moment to interpret your search queries and dig into the vastness of social media to deliver even fresher, more relevant results.
And if you come back to your Saved Search a few hours later and hit "Apply Search" again, you will see even more results roll in.
That's because Scopio's proprietary search engine uses AI technology to find the most relevant photos and videos on social media. The current search process includes four main components: hashtag suggestion, query expansion, image filtering, and image recognition. The search aggregates visual content from social platforms, filters them and then sorts results by relevance through natural language processing.
Wide or deep?
There is so much content on social media. Knowing whether you are in "Discovery" mode or "Hone-in" mode can help improve your experience.
Discovery mode
If you are looking for something like beautiful landscapes in Ireland, feel free to play around and launch a few general searches (think Ireland travel, Dublin or Blarney Castle).
Our system will offer up Suggested Tags for you to use, too.
If you find a good result, click on it to check out the hashtags and keywords that the content creator used. Chances are good that you'll find a few relevant hashtags and keywords to add to your search.
When you have a nice mix of search terms and results, save the search. The next time you open the search, it will update and refresh.
Hone-In mode
If you are looking for vegan food, for example, you'll probably start with the most exacting hashtag. Since there are so many different types of people and communities on social media, there's often a dedicated hashtag for what you seek.
So, enter #veganfood or "vegan food," and you'll get the most on-par results.
You can use Suggested Tags to discover other search terms favored by this community, which will give you even higher-quality content.
Use Instagram posts to find good hashtag extensions for your search
Now, open up one of the vegan food results that you like by clicking on the thumbnail. You'll probably discover many more hashtags specific to the content creator's interests and communities — think #plantbased, #vegansofig, #whatveganseat or even #veganfoodshare. Even if you're using Suggested Tags, it still helps to cross-check them with hashtags used by people in talented Instagram communities.
Feel free to add these tags to your search bar and click "Apply Search" to refresh those results.
As you use the tool, your cached collection grows and the more our machine learning will adapt. This will ensure better results.
HOW TO USE SUGGESTED TAGS
Feeling adventurous? Scopio generates tags related to your searches based on our proprietary learning system. This system analyzes social media trends to suggest tags that subscribers can add to searches to enrich their experience.
For a broad search of a generalized term like "dog," we'll suggest tags that will deliver results from content creators who have been identified as having superior results based on past search results.
1) When creating a search for the first time or viewing a previous one, click on any of the "Suggested tags" and apply your new search terms to enrich your results.

HOW TO CREATE A SCOPIO SAVED SEARCH
1) The Dashboard Homepage is where you initiate all searches. As you enter hashtags and keywords you're interested in, suggested tags will filter in below to help you with your search. To select them, you can click on any one of them.

2) When you're done adding search terms, click the big blue "Search" bar to find what you're looking for. Be sure to trust the process — Scopio's intelligent system will filter out the spam and advertisements and bring up results it predicts to be most relevant to you. It will also display cached results found in previous user searches and updates results in real time.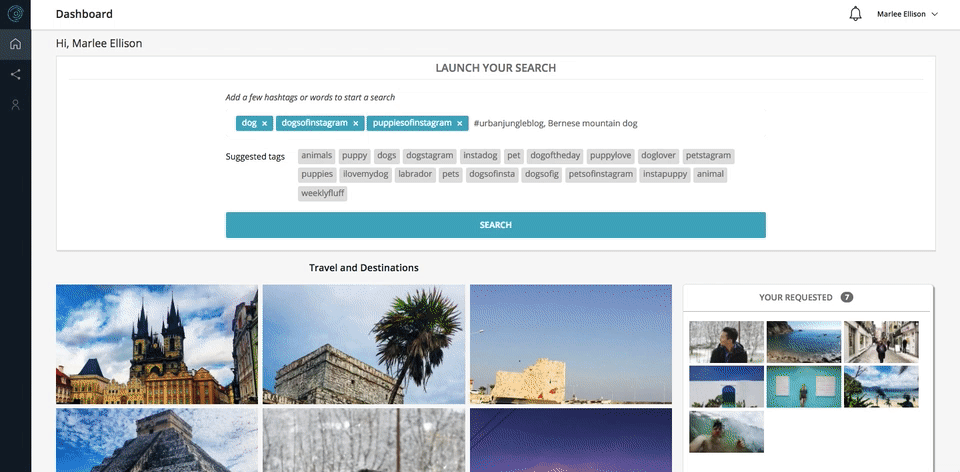 3) When you're happy with your results, name and save your search. The naming field is in the top left-hand corner of the page. We highly suggest you save searches if you're looking to keep track of certain topics and trends, as this ensures that your search will update with fresh results every day. You can always delete searches later from your Dashboard Homepage.

4) It never hurts to work your searches, as great new content rolls into social media every day. Edit searches by adding more terms to the search bar on the top or by selecting suggested tags. Then, click the "Apply Search" button in the top right-hand corner. Your search will update with the new terms.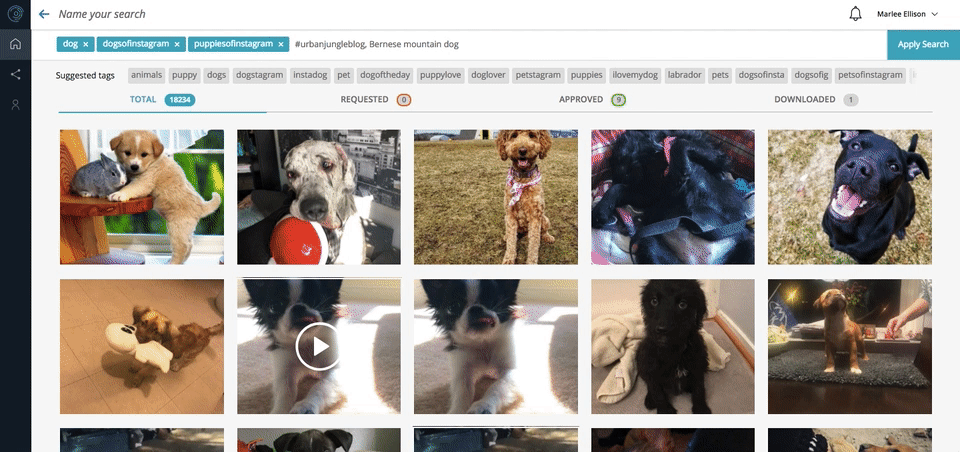 Tip: Rather than just using more general hashtags or keywords, like dog, we suggest adding niche terms to the mix — think #dogsofinstagram.
HOW TO REQUEST AN IMAGE OR VIDEO FROM A CONTENT CREATOR
1) Create a search. You can also open one of your saved searches from your Scopio dashboard by hovering over the Saved Search and clicking "View."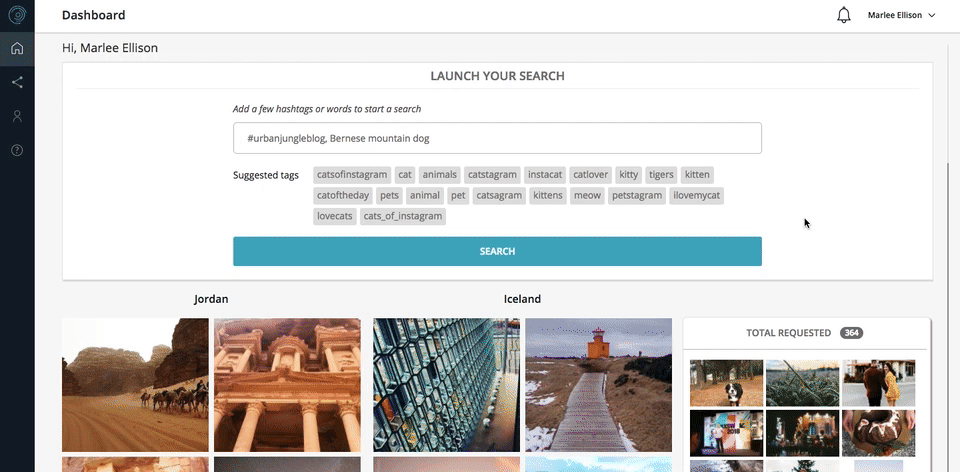 2) Find an image or video you'd like to request from a content creator. Hover over the image or video and select the "Send Request" icon on the top left-hand corner (it looks like an envelope). You can also click directly on the post to open up more information about it, including its caption, and then select the blue "Send Request" button.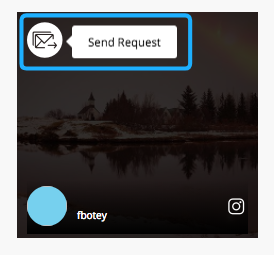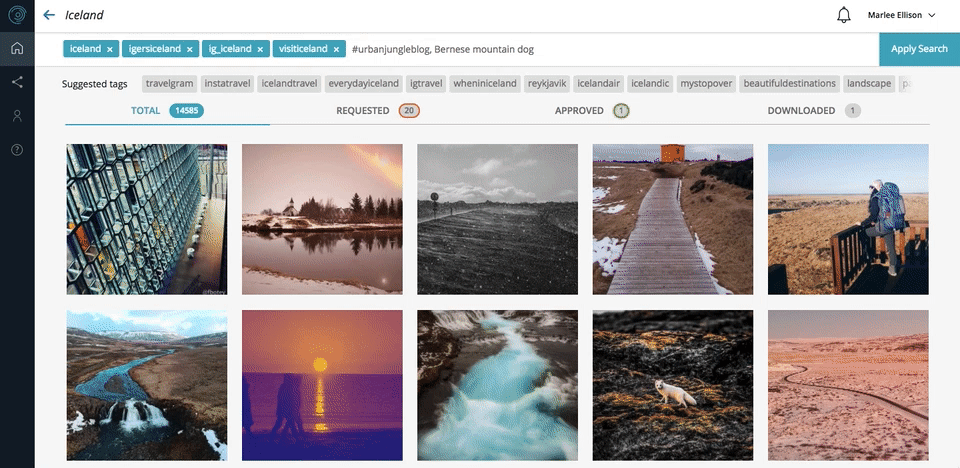 3) A dialogue box will open up that includes a few pre-populated message templates. All templates have an editable portion and a fixed portion prompting creators to approve use of their content with a #yesusername response. The username matches the Instagram account you connected to the Scopio dashboard. If the Instagram account you're using is @marleefromscopio, for example, the hashtag content creators will respond with to approve use of their image or video is #yesmarleefromscopioo.
Click the arrows on the left- and right-hand side of the box to scroll through all of pre-populated message templates. You can also choose to create your own message, which we recommend.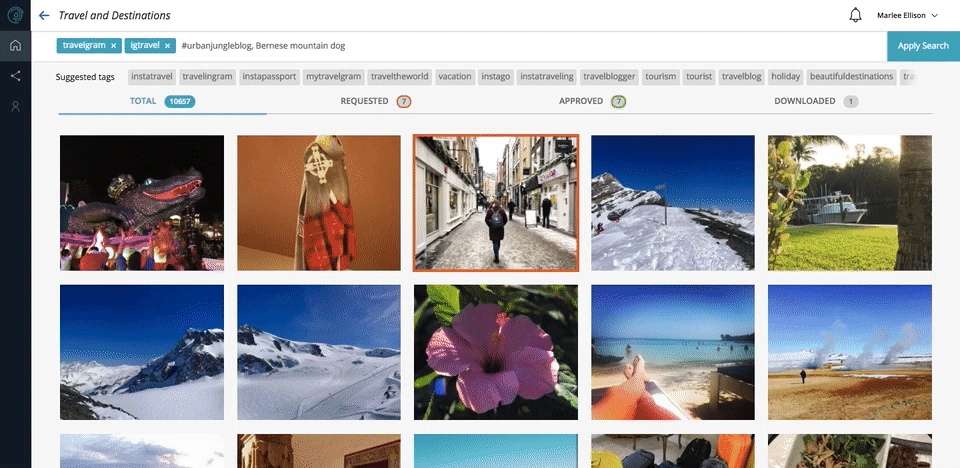 4) Hit "Copy to Instagram" after you're done crafting your message. Then, click "Open in Instagram." Your message will automatically be copied. Paste your message in the comment section of the photo or video you'd like to request. Hit enter on your keyboard to send that comment. You will also want to make sure that you're logged in to the correct Instagram account on your browser (the one that's connected to the Scopio dashboard).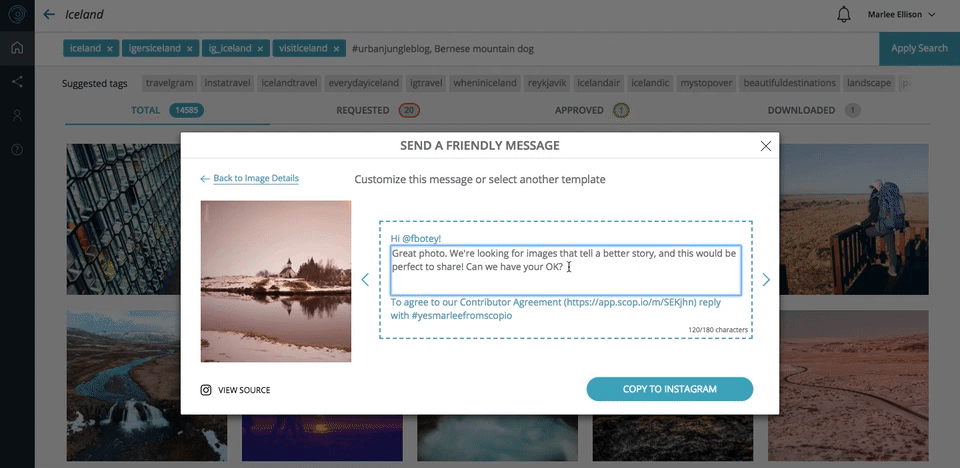 Tip: We highly suggest editing your messages and tailoring them to each content creator. Since this is a more personalized approach, it should increase your approval rates. We suggest complimenting the content creator's work and letting them know where you'd like to use their photo — just make sure to follow Instagram's guidelines.
If you don't save a search but request an image or video, the request will show up on your Dashboard Homepage under "Your Requested."
YOUR #YESUSERNAME INSTAGRAM GALLERY
When content creators agree to your requests with a #yesusername response, their images or videos are now publicly viewable on Instagram in a clickable hashtag gallery. If your Instagram username is @marleefromscopio, for example, all approved images and videos are viewable on Instagram under the #yesmarleefromscopio tag.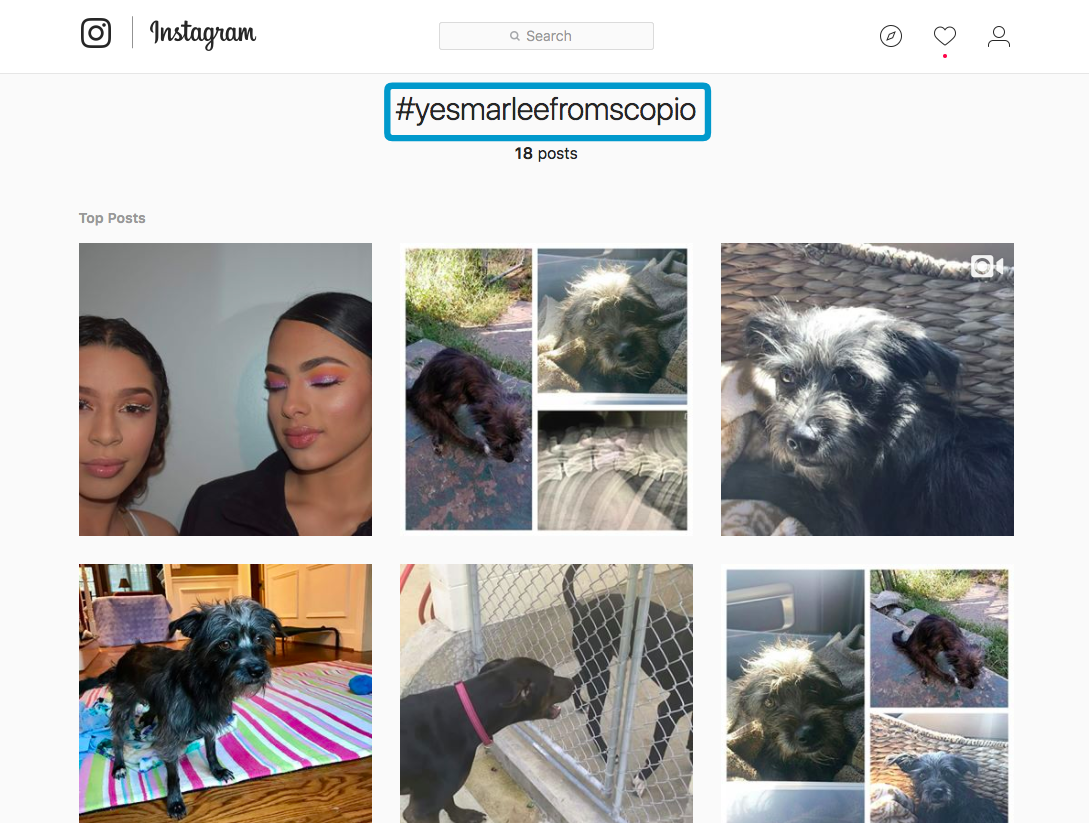 HOW TO SEE A MESSAGE YOU SENT TO A CONTENT CREATOR
1) If you'd like to see a message you sent to a content creator, select the "Requested" tab on the search that their image or video is in. This will filter to just your Requested items. Hover over that thumbnail and click the Instagram icon. This will direct you to the original posting on Instagram. You can also click the thumbnail and select "View Source" on the lower left-hand corner. Your message should be viewable in their comment section.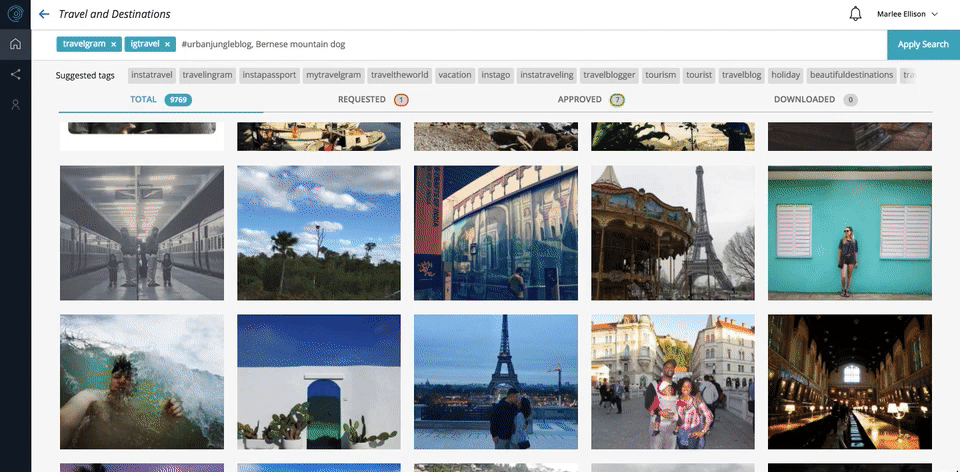 If the content you want to check on was approved by a creator, it will be in your "Approved" tab.
HOW CAN I IMPROVE THE CHANCES THAT A CONTENT CREATOR LICENSES THEIR PHOTO OR VIDEO TO ME?
If you're on the dashboard, try to be as specific as possible when requesting that image or video — it helps to build trust. If you're a dog food company and you're requesting an image of a dog, the person will be more understanding if you explain how you'd like to use it. They'll trust you and will be more likely to share the photo. Likewise, if you're a non-governmental organization or a media agency that needs a #worldwaterday photo, that person will be more willing to share their image with you if they understand your intentions.
We also suggest linking your brand or company's Instagram account to the dashboard. A request is more trustworthy (and often more exciting) when it comes from you!
SHOULD I CHECK ON THE IMAGES AND VIDEOS I'VE REQUESTED (BUT HAVEN'T BEEN APPROVED)?
Yes! It always helps to follow up with busy content creators. You might also notice that some content creators respond with a @yesusername rather than a #yesusername. If you find this error, you can let the content creator know how to approve their post correctly.
PUTTING YOUR BEST FOOT FORWARD WITH CUSTOM REQUESTS
Instagram's guidelines:
1) First things first: Check out Instagram's Community Guidelines, which suggest fostering "meaningful and genuine interactions." In the words of Instagram, "Help us stay spam-free by not artificially collecting likes, followers, or shares, posting repetitive comments or content, or repeatedly contacting people for commercial purposes without their consent."
2) Remember that each image and video request you send is viewable to the public. Think of it as an opportunity to brand yourself!
General guidelines for your custom messages:
1) Try to send more customized messages than templates. Templates work if you're in a rush, but creators are much more likely to respond to you when they understand your goals and trust you.
2) Address the content creator personally by complimenting their Instagram feed or the photo or video you're requesting
3) Let the creator know how you'd like to use their content
4) If you have space, you can also explain a little bit more about your business
5) Avoid jargon if possible. Content creators might not understand what a marketing deck is or what B2B entails, for example.
WHAT DO CONTENT CREATORS AGREE TO IN THE CONTRIBUTOR AGREEMENT?  
Scopio is a facilitator. We provide a service enabling Subscribers to request and secure approval from people and organizations for use of their social media content. We warrant our services via our Terms and Conditions and Service and Licensing Agreement, and Contributors warrant their rights to the content via the Contributor Agreement.   
When content creators respond with the #yesusername hashtag on social media, they are also agreeing to the Contributor Agreement linked on the request. This is underlined below: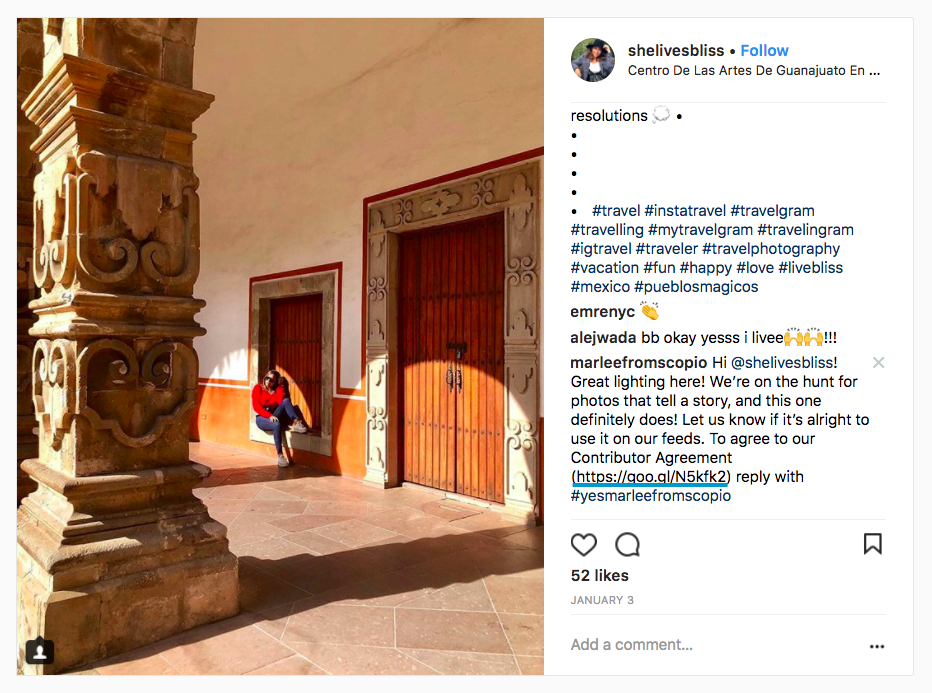 The current social media ethos encourages sharing, and the terms of our current agreement grant the subscriber free usage of the media for Digital Rights. This includes publication emails, web pages, social media pages operated by the Subscriber and internal corporate-use or mobile-only apps operated by Subscribers.
If the Subscriber requires higher profile "Other Rights," which we currently define as Print media, Broadcast, Cable, TV, Theatrical, Merchandise, Advertisements and Templates, the content creator will be compensated according to terms negotiated with Scopio and the Subscriber.
The content creator warrants to the Subscriber that they created the content and have the right to make it available to the Subscriber.
It is fantastic to be able to secure authentic content from real people. However, if someone poses for a photo in front of a billboard for the latest Star Wars movie (or in their bedroom where a Star Wars poster is on the wall), we doubt they secured permission from George Lucas, Disney, Harrison Ford and Princess Leia's estate for commercial usage. This is social media — and common sense should prevail.
WHAT IF A CONTENT CREATOR SAYS YOU CAN REUSE THEIR IMAGE, BUT ONLY WITH CREDIT TO THEM? 
Under Scopio's Contributor Agreement, content creators technically don't need to be credited for their work when it's used by a brand.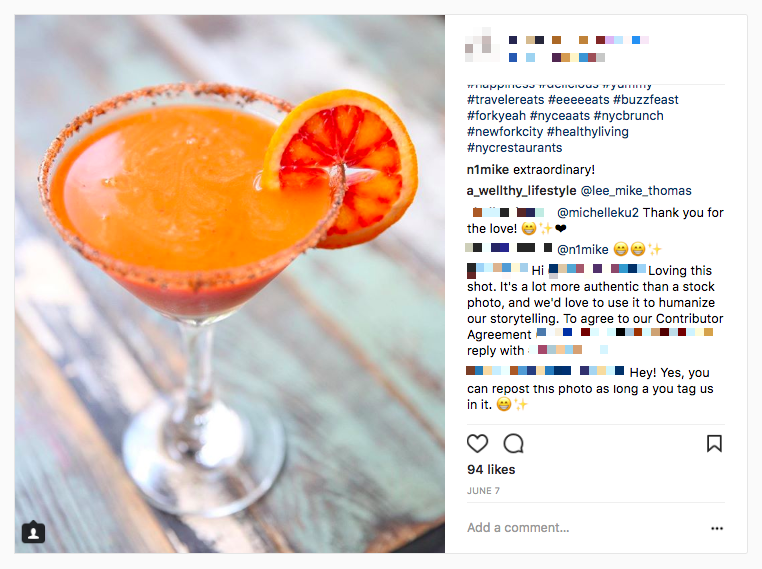 If a content creator wants credit when you use their work as in the example above, you can tell them a few things (doing this over DM is best):
Agree, and use their work only with credit to them
Agree to credit them if you repost it on Instagram (which could boost your engagement), but tell them that you might use it without credit for other uses
Explain to them that you will use it without credit for certain purposes, and for other high-level purposes (e.g. ads), they will be compensated
HOW TO USE OTHER APPROVED CONTENT
After creating a search, you may notice a box in your "Approved" tab that contains "Other Approved" images and videos. This box will only appear if previous Subscribers requested and secured approval of images or videos that match your current search. You can use them, too!
1) Navigate to a search (or create one).
2) Select the "Approved" tab.

3) Here, you'll see a box named "Other Approved." Hover over it and select "View." Download any of this content by hovering over it and selecting the "Download" icon.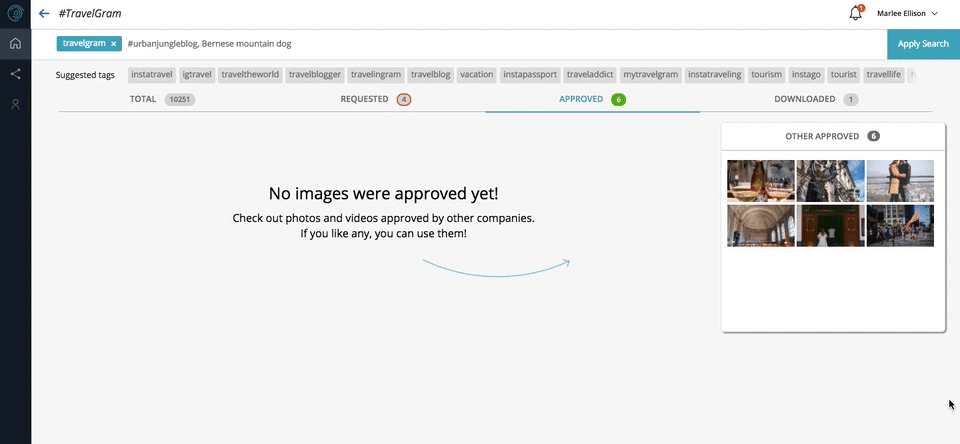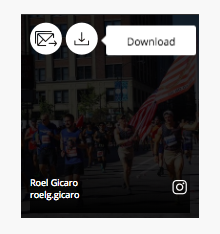 4) You can toggle back to your own approved images by selecting "View" on "My Approved."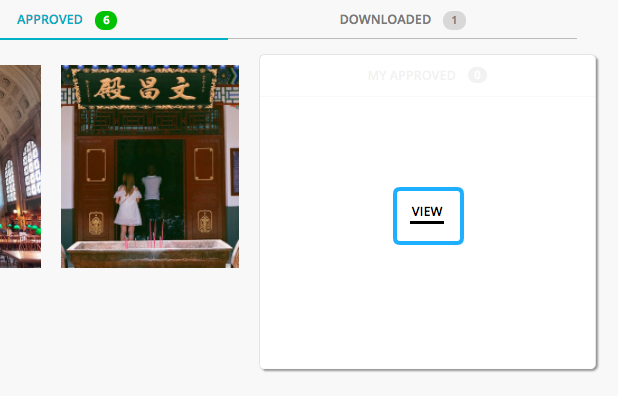 HOW TO DISCUSS EXPANDED RELATIONSHIPS WITH CONTENT CONTRIBUTORS 
Many Subscribers utilize Scopio as a springboard for expanding relationships with social media content creators. News and magazine sites may seek to build entire stories around a particular image or posting. Brands may be seeking to establish influencer connections. And many Instagram business accounts may become sponsors or advertorial partners to subscribers going forward. All potentially established as a result of a relationship that began at Scopio.
If you want to start a deeper relationship with a valuable content creator you've identified, we suggest direct messaging them through Instagram.
HOW AND WHEN TO DIRECT MESSAGE (DM) A CONTENT CREATOR
If you have your eyes on a specific image or video and a content creator hasn't replied to your request, you can direct message (DM) them on Instagram. This feature is outside of the Scopio platform, but we find that it can help ensure content approval. This is a big privilege on Instagram — don't take it lightly!
1) Using a smartphone, log in to your company's Instagram account.
2) Tap the magnifying glass icon on the bottom of the Instagram app. Use the search bar on the top to navigate to the content creator's profile.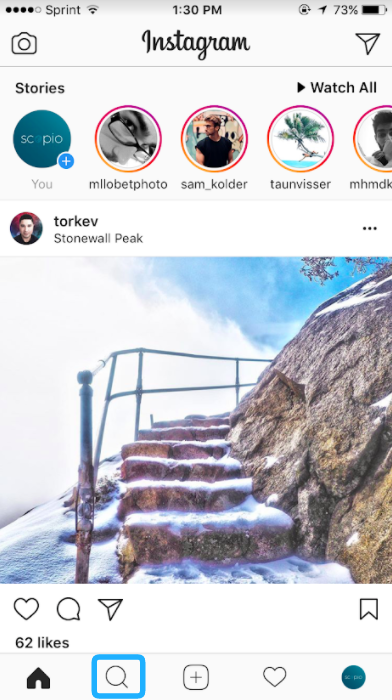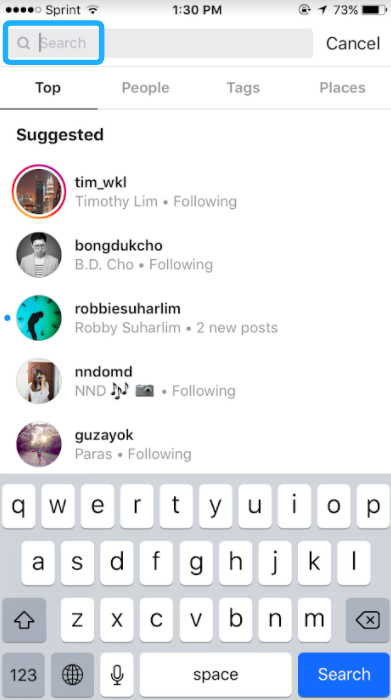 3) On their profile, tap the icon at the top right-hand corner to bring up the menu below. Select "Send Message."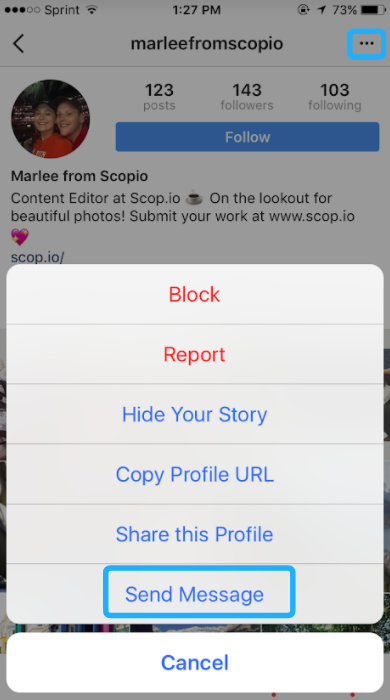 4) Send them a personalized message requesting that they approve their photo or video. It helps to include directions and a link to the content.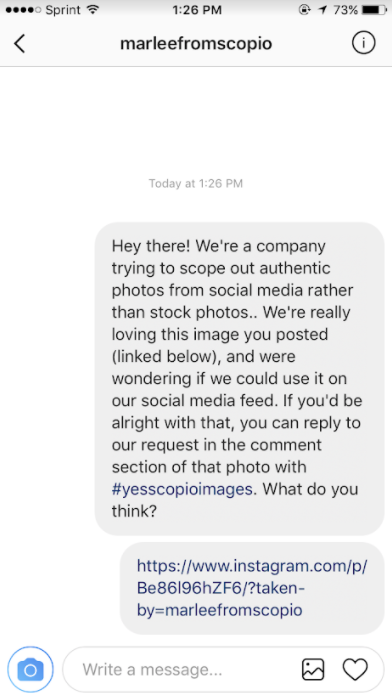 5) We also recommend that you comment on one of their photos letting them know that you messaged them.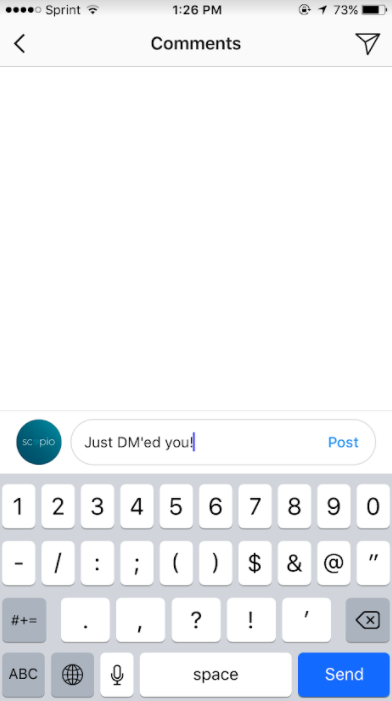 HOW TO DOWNLOAD APPROVED AND OTHER APPROVED IMAGES AND VIDEOS
1) Once an image or video is approved for use by a content creator via a #yesusername hashtag response, you can download and publish it. First, you'll need to open a search with approved images and click the "Approved" tab.

2) Download an item by hovering over the post and clicking the "Download" icon. Every downloaded post will show up in your "Downloaded" tab. Even if you don't have images approved yet, you can view, download and publish images related to your search that were approved by other Scopio users. Do this by selecting "View" under "Other Approved" on the "Approved" tab of your search.