Before learning how to sell photos online, let's backtrack a little bit. In fact, let's set our hypothetical time machine back to the turn of the 20th century. The second modern Olympic games are going on in Paris, and women like Hélène de Pourtalès — a Swiss sailor and first female Olympic medalist — compete for the first time. US President William McKinley, with his bold ideas on foreign policy and penchant for protective tariffs, earns a second term as Commander-in-chief, and work begins on New York City's expansive subway system. More people are speaking out, and the world is becoming more interconnected.
The Kodak Brownie also makes its debut in February 1900. This relatively affordable point-and-shoot film camera democratizes photography, introducing the concept of the snapshot to the general public. Photography is no longer just an art form or pricey activity exclusively for the wealthy. And over the next few decades, children and adults alike cart around their Brownies, record their lives and send film off to labs to be developed.
It's 117 years later, and photography is still an art form for everyone. But instead of sending film to the processing lab, we point and shoot with our smartphones, upload the resulting images and videos onto social media and share life's moments with friends, family and followers.
Since this user-generated content — or extraordinary photos and videos from everyday people — is more authentic and cost-effective than stock photography, there's a huge opportunity for social media photographers to profit. Scopio offers a way for social media photographers to share these moments with forward-thinking brands and companies.
We spoke to three photographers who were scoped out, published and paid by our clients. Here's what they have to say about the user-generated content revolution.
Martin von Fintel
Martin von Fintel is a social media photographer based out of South Africa with a knack for landscape and nature shots.
After receiving a request from the Scopio team for one of his photos, Martin was a little skeptical. He thought submitting to Scopio would be a one-and-done experience, but changed his mind after his Twitter photo was picked up by Franchise Help, a resource site for potential entrepreneurs.
? #visualsgang #visualsoflife #livefolk #liveauthentic #huffpostgram #hsdailyfeature #jaw_… https://t.co/Qv7c3fXBY2 pic.twitter.com/i0fn7GjKF0

— Martin von Fintel (@martinvonfintel) February 16, 2017
"I think this is a really cool idea," he says of the experience, adding that it helps small-scale freelance photographers earn publicity and a little bit of dough on the side. And because of his experience, Martin plans to submit more photos to Scopio's image library in the future.
Haley Pitto 
Haley Pitto is a journalist, current graduate student at the University of Missouri and Editorial Assistant at the IRE Journal. 
This March, Haley was busy snapping and uploading photos of True/False Film Fest, a cherished documentary film festival held annually in Columbia, Missouri. So when the Columbia Missourian searched through Scopio's dashboard to create a True/False gallery, Haley's great posts were front-and-center. The team decided to reach out to her.
"I've never been asked to contribute my photos to a publication (in print or online) before," she says, and explains that she was excited when she discovered the notification.
Because Haley hadn't heard of Scopio before, she was a little skeptical at first — but Scopio's white-labeling capabilities changed her mind. Since the Missourian linked their Instagram account with Scopio's dashboard, their request to Haley came directly from them. "With the Missourian's name attached, it lent to the other company's [Scopio's] credibility," she adds. And by charging Scopio on Venmo, Haley received her payment quickly and efficiently.
She's also excited about the new way that companies are sourcing images: "I think it's fantastic that companies are choosing to source from everyday people instead of using stock photos," she says, citing the "Women Laughing Alone with Salad" meme that made its rounds on the internet.
But Haley also comes in from a journalist's point of view. "Stock photography is a cop out," she says. "It's cheap and easy. Visual content is one of the cornerstones of good journalism and most branding campaigns. In my opinion, using stock photos undermines a company's credibility. Using sourced images is humanizing; you're connecting with your audience and even expanding it."
When it comes to user-generated content and this new potential to sell photos online, we couldn't have said it better ourselves.
Manas Awasthi
This ex-sailor, camper and lone voyager documents beautiful scenes from his motorcycle journeys and uploads them to Instagram. But to him, it's the journey that matters the most.
The Scopio team discovered Manas' stellar Instagram account after creating a campaign to scope out travel photos. His shot of these double-humped Bactrian camels — relaxing in a remote Indian valley — truly stood out from the rest.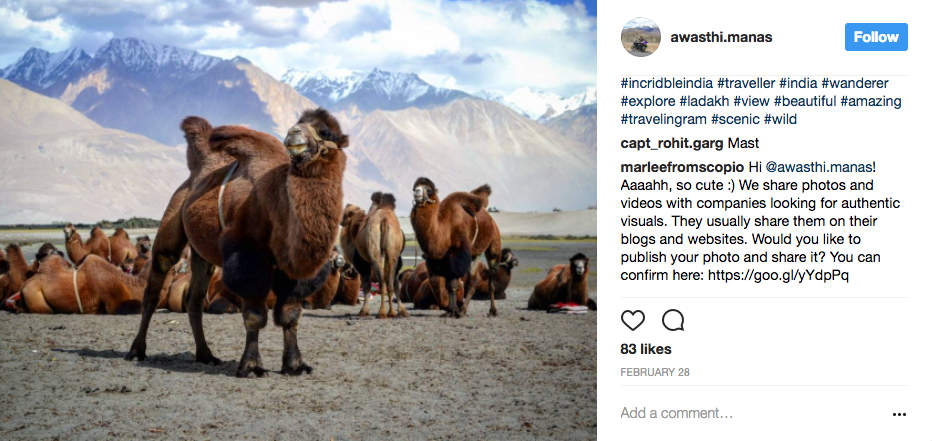 "I was delighted that people are looking into my photos and my work is getting noticed," he says of his initial interaction with Scopio.
Manas is confident about the movement toward user-generated content as well: "I feel everyday people who are creative and keen observers share their experiences in forms of photos these days," he says. And in the case of travel bloggers, posting photos on social media makes it easier for them to connect with like-minded folks as well.
Manas still wants to sell photos online and plans on stocking Scopio's library with brilliant visuals in the future. But for right now, he's really just enjoying the journey. Though he passes by beautiful landscapes, "it's the journey that matters to me more," he says.
Do you have great photos and videos sitting on your phone? Don't let them gather digital dust — just upload your work to scop.io/submit to be scoped out, featured and paid by brands, media outlets, news organizations, nonprofits, startups and established companies. You might just get to line your pockets.
Scopio is the industry's premier search and licensing platform for images and videos on social media. We help companies find and use the photos and videos that matter to their audience, from capturing content to evaluating the analytics on campaigns. Want to sell photos online? Visit our super-handy submit page! Wondering how to find authentic visuals that brighten up your emails? Request a demo with the button below or email info@scop.io. Featured photo by ryanzeffgregory/Instagram.
The post Let's Connect: Scopio Helps Photographers Sell Photos Online appeared first on Scopio.